Indian food is amazing and mouth watering. When we talk about India, Here comes the natural aroma of Indian spices in our mind, People love to use spices in their daily meal. Purpose of using spices can be medicinal and Health. Moreover, spice mean chilly but not every time, actually spices are always very aromatic not spicy, only the red and green chilly are spicy, North Indian cuisine includes some chilly. But Indian people not eat much spicy. It's completely depends on person to person taste.
However, in restaurant you can choose whether you want spicy or non spicy food. In short, It consists of a variety of regional and traditional cuisines depending upon diversity in soil, climate and culture. Amazing Indian cuisine has the history of international relation about trading spices to Europe, china and Africa
In addition, people were exporting spices and herbs to Europe and Asia with the help of DFPD, which influence other cuisines across the world, especially those from Europe (UK), the Middle East, Southern African, East Africa, Asia and America. Let's have a look on Indian verity of food which make with love and different aromatic spices.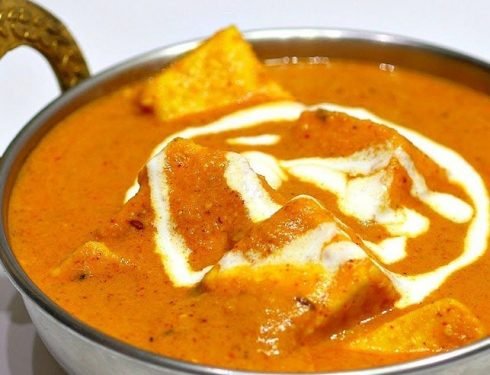 Shahi Paneer
This is thick gravy of cream, tomatoes and Indian spices. It is originating with the creamy delicacies of Mughlai cuisine (indicates the royal). For making this dish we are emulsifying tomatoes, onions, ground cashews, butter and cream into a curry, with the addition of cheese cubes and a variety of spices. Usually people eat this with traditional Indian flat-breads like roti or naan, or with rice.
Dal Makhni
An amazing north Indian dish belongs to state of Punjab. Panjabi community eat a lot of it. For making it we use whole black lentils and red kidney beans, butter and cream. The dish gets its richness from the use of cream or butter, but we can also use yogurt and milk. It is very popular in North India.
Butter Chicken
One of the world wide popular curry of north India. We cook this with tomato sauce, yogurt, cream and spices. We need to marinate chicken for few hours in a mixture of lemon juice, Kashmiri red chilli, dahi (yogurt) salt, garam masala (Indian spices mix) and ginger garlic paste. Then cook chicken in a tandoor (traditional clay oven) and when it is ready we serve in a mild curry sauce with butter. Actually the base of sauce is tomato and onion paste that we cook on slow flame until smooth. Because it's a famous dish, so it's easy to find in any Indian restaurant.
This is a pure vegetarian. We make this dish with Indian cottage cheese and thick paste of spinach and then we ginger, garlic and masala (spices). It is famous in north India because of its healthy qualities. Some call it green paneer(Indian Cheese), This dish may contain green fresh mustard or other green leafy vegetables or green vegetables. We can enjoy it as soup and very popular during winter season, because it warmth your body and spinach helps the digestive system of our body.
Fish Curry
It is one of the famous dishes in South India. We make fish curry with white fish (cut into cubes), onion, tomato, garlic cloves, oil, fresh coconut paste, red chilli paste, coriander powder, turmeric powder, salt, Whole dry red chillies, black mustard seeds, tamarind extract and water. It is very popular in South India.
Chicken Biryani
Biryani is a mix of rice and chicken. We can cook it together or separately, this dish is very popular among the Muslims of the Indian subcontinent. They make it with Indian spices, rice, meat (chicken, beef, goat, pork, lamb, prawn, or fish), vegetables or eggs.
Rajma Chawal(Rice)
This is the most popular dish of North India. We make it with rice with beans, but need to cook them separately with aromatic Indian spices and eat together. It is very easy
to find in Indian Restaurant and very much healthy.
Roti
''Chapati'' also known as roti,is an flatbread originating from India, Chapati are made of whole-wheat flour known as Atta, mixed into dough with water and salt in a mixing utensil and is cooked on a tava (flat skillet).
Butter Nann
Naan is an Indian bread. It is usually refers to a kind of thick flatbread, Generally it like pita bread, is usually leavened with yeast or with bread starter, They cook in a mud oven, from which tandoori cooking takes its name and brushed with butter.
Parantha
One of the most popular unleavened flatbreads with brushed butter on pan. People make this with whole wheat dough on a flat pan, and finishing off with shallow frying with butter. They layer it and coat with ghee or oil and folding repeatedly (much like the method used for puff pastry) because food ingredients such as mixed vegetables already in with the dough, such as potato or cauliflower, green beans, and carrots. Most of the Indian people prefer plain paratha.
Rumali Roti
This type of roti is one of the unleavened Indian breads but very thin like almost transparent, It's Mughlai and Hyderabadi cuisine. You can enjoy this roti in many Indian restaurants. These rotis are soft and thin like a handkerchief. Word 'rumal' means handkerchief in hindi.
Chole Bhature
It's an India most famous street food in north India, recipe of ''Bhatura'' includes white flour (maida), dahi (yogurt), much ghee or oil, and either yeast or baking powder. Dough is left to rise, and then small balls of this dough are either hand-rolled then deep fried until they puff up into lightly browned, soft, fluffy bread, which is elastic and chewy. It is usually eaten with chick peas curry which is in Hindi as(chole). Made with lot of Indian spices and butter.
Samosa
A samosa is a fried pastry with a potato, onions, peas, savoury filling. It can be in different forms, cone, triangular, or half-moon shapes, depending on the region. The Indian style, often accompanied by a chautni(sause),which made with tamarind and suger or green fresh mint.
Kachori
The most famous ''Indian street food'', is originated in India. It is usually a round flatter ball make of fine flour fills with a stuffing of baked mixture of yellow moong dal or urad dal (crushed and beans), besan (gram flour), black pepper, red chili powder, salt and other spices and then fried in Oil until became brown.
Gol Gappe ( Best Indian Food)
It is a type of snack that originated in India. It consists of a ball-shape make with flour dough , (a deep-fried crisp crepe), later crushes and fills with a mixture of spice water (known as imli pani), tamarind chutney, chili, chaat masala, potato, onion or chickpeas.
Madgao Dhai Balle
Dahi vada or dahi bhalla is one of the famous street foods in North India, which is a round shape dish make with grind moong(lentil) dal and deep fry in oil until became brown and enjoy with yogurt and sweet chutney and green chutney.
Bread Pakora
It is a popular Indian street food. We eat this usually with tea as a snack for breakfast. The process of making this snack is to making a gram flour batter then slice bread and fill with potato and fry in hot oil. This snack is famous in all over India. Everyone make this snack on the occasion of Indian festival.
Pav Bhaji
North Indian famous street food snack which is served all over India, specially in Bombay now Mumbai. Making of it is very easy In a large bowl add salt and keep aside. Now chop all the cauliflower green peas, potatoes, mircha . Add 1-2 cups of water with salt and 1/4 tsp turmeric powder. Close the lid and pressure it till 3-4 whistles on high flame or till the veggies are completely done.). In a pan drizzle 3-4 tbsp oil along with 1-2 tbsp butter add chopped onions and fry till the onions are brown and them keep all vegitables . Fry all together and crush with hard hand until became smooth. Then enjoy it with hot buttery pavs(bought from market).
Lassi
A refreshing Indian Drink is one of the popular traditional drink in India, made with Dahi (yogurt)-based that originated in the India. Lassi is a mix of yoghurt, water, spices and sometimes fruit. It can be salty, sweet, and with fruit or mint lassis.
Masala Tea
Tea is one of the famous hot drink in India, Usually people enjoy it with Pakoras and sandwitch. It's made with milk, water, and Indian spices. In India people take it 3 or 4 time in a day.
Jal Jeera
It is a refreshing Indian drink, which is made with water, mint, salt and some spices. People usually enjoy it in summer time.
Nimbu Pani (lime and water)
It's a refreshing Indian drink, which is made with water, lime, salt and sugar. People usually enjoy it in summer time.
Rasgulla
This is a very famous Indian sweet, originating from Bengal. Bengal is famous for sweet dish. some of the best sweets in Indian sweet you can find here, Rasgulla is Spongy cheesball prepared in a lightly sweet sugar syrup.
Gulab Jamun
The best Indian dessert, which is a kind of fried dough balls that are soaked in a sweet, sticky sugar syrup. As per tradition, the syrup has a delicate rose flavour: Gulab means 'rose water' and jamun means Berry.
Jalebi
It is a very popular sweet in India, Traditional jalebi recipe of this Indian fried sweet pretzel is an easy one, it is made with plain flour, saffron, sugar syrup and ghee. Some people use yeast for making jalebi. No one can eat just one. It is very famous in Rajasthan and Haryana (Indian states).
Rasmalai
This dish is most certainly a pinch of love; one that fills your senses once you have a spoonful of the milky soaked smooth dumplings with cream and crunch of pistachio. The dumplings are made with milk solids, but ricotta can be a good option.
One of the traditional Indian sweet. It is very soft and melt in mouth immediately. The original recipe we can make with just milk, sugar and some nuts. For making it we burn the milk in a pan. When it start becoming brown we keep the thick milk in a flat pan and then we can sprinkle some pistachios and resins.
Note – We have mention only few here, we can explore many more, If you really want to know about  the Indian Food, You are most welcome to India, Organize your culinary tours with us  to learn and taste Indian food.