Orchha is one of the popular Tourist Destination in the state of Madhya Pradesh. This small beautiful town is popularly known as Raja Ram's kingdom. In addition, this town is an amazing blend of Mughal and Rajput architecture dating back to the 16th Century. However, the king Rudra Pratap Singh has established Orchha as the capital of the Bundelkhand Empire in 1501 AD. Orchha is the point where Betwa River splits into seven channels.
Moreover, Orchha was the heart of many prominent royal dynasties for nearly 300 years. In short, the main attractions in Orchha is Fort complex, which is situated on an island in the Betwa. This complex is a maze of palaces, forts and temples. There are three main parts of the fort Raj Mahal, Sheesh Mahal and Jahangir Mahal. Importantly, the fort hides within it secret passages, exquisite murals and resplendent residential quarters of kings and queens.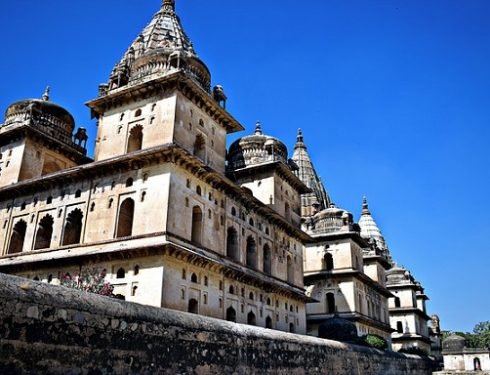 Raja Bir Singh Deo built Laxmi naryan Temple. This Temple is dedicated to Goddess Lakshmi (the goddess of wealth and prosperity). Its structure is a unique blend of temple and fort architecture. They used lime mortar and bricks for construction. The temple has cannon slots on its roof as well.
In addition, this temple also has the famous post-mutiny paintings and another interesting thing is that it has flagstone path and it connects to the Ram Raja Temple. Moreover, there are some other thing to note in the temple are the carvings on the central dome and ornately carving on pillars corner. However, visitors must see the popular painting of the legendary ''Shungi Chirya''. Which is a monstrous bird that could capture elephants in its talons and there is no idol of the goddess inside the temple.
Usually Tourists visit Orchha while travelling from Jhansi to Khajuraho. They get down at the train station of Jhansi which comes after Agra and then continue with car till Khajuraho.