Jodhpur is an amazing city in the Desert of thar. It is very popular because of its animal love and tree love. People of this city not only plant many trees but they also pray them. It is also famous as ''Blue city'', because everyone uses this color for the decoration of their homes. Rao Jodha, the chief of Rathore clan founded Jodhpur city in 1459.The city of Jodhpur is the second-largest in Rajasthan and is an architectural marvel. To experience the soul of this amazing city, need to explore its bustling bazaars that offer a fine selection of the spiritual Pichwai paintings, Jodhpuri pants or breeches and beautiful sarees. Jodhpur is also famous for its street food like the savoury pyaz-ki-kachori, the spicy mirchi bada and the thick and sweet makhaniya lassi, is an unforgettable experience.
As you explore further, Jodhpur charms you with its rich royal legacy that is evident in notable landmarks like Umaid Bhawan Palace, Jaswant Thada and the scenic Mandore Gardens. For an authentic and amazing Rajasthani rural life experience, one can explore Khichan Village, which is a favorite stopover for migratory birds. Evenings here are sheer bliss and when the temperatures of the desert goes down birds glide over the smooth water of the Khichan Bird Sanctuary.
Places to visit in Jodhpur, Mehrangarh Fort, Jaswant Thada, Bisnoi Village safari or visit.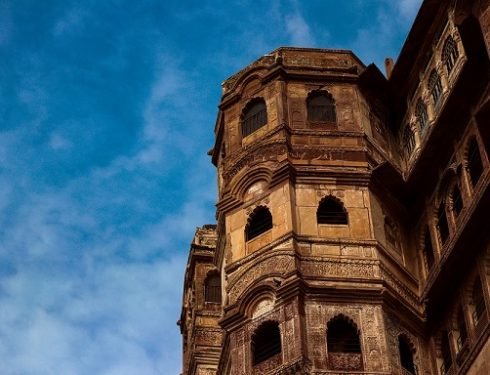 Jaswant Thada is a 19th century royal cenotaph located to the left of the Mehrangarh Fort. Maharaja Sardar Singh built it to commemorate his father Maharaja Jaswant Singh II, the 33rd Rathore ruler of Jodhpur. Thada also serves as a museum and gallery of sorts, displaying memorabilia, portraits of the rulers of Jodhpur and paintings to the public. 
Bishnoi village is very famous because of its local tribe life style and OPM, which is a kind of tobacco. Village of Bishnoi offers glimpses of the rural life of Rajasthan in an expanse of dry desert and swaying trees. One can explore the beauty and mingle with the tribes of this area by booking a jeep safari. The safari tour was founded by Jodhpur rajas and maharajas to offer a
peek into the culture of this Marwa state to Indian and foreign guests. Bishnoi tribes of the village are staunch worshippers of nature in all its forms, especially the sanctity of plant and animal life. 
They even pray to the green trees and animals that inhabit their land, and are strict vegetarian, Apart from this one can find various species of exotic migratory birds and endangered species of animals. During the safari, you can also interact with families of weavers, potters and shepherds who have been in the trade for generations. It can give you an insight into the history and social-cultural landscape of Rajasthan.