Most adventurous thing one can do in India is Camping. It is one of the fantastic way to feel the nature beauty of India. Nothing can better then feel of living in camp in magnificent mountains. It is an awesome adventure one can have just spending nights under the blanket of shining stars. Camping in India is a great experience to escape from routine life and feel blessed in the arms of nature. There are some awesome places in India for camping and trekking. So what are you waiting for, let us begin the journey.


Tsomoriri Lake is one of the beautiful lakes in the world, every year many tourists goes to enjoy camping there. It is the highest lake in the world which is situated in Leh and Ladakh. While camping here one can experience lifetime satisfaction. This lake is completely frozen in winter and the best time to camp here is from May to September and it is wonderful to spend time in the tents. You can trek in the nearby Ladakh region and witness the mesmerizing sunset at the lake. To reach there one can go by Motor bike or one can take a flight from Delhi to Leh and then take a car or bike to reach there.
Note – It is mandatory to stay in Leh at least one full day or 2 days for acclimatization because of less oxygen in the air. And also need to carry oxygen cylinder with you. Contact us for more detail.
Rishikesh, Amazing for caming in India
Rishikesh is one of the top camping destinations in North India. Camping experience here is unique and offers amazing view of Valley and It is also has a more spiritual connection. Camping in shiv puri on the bank of holly River Ganges brings you close to nature and has spiritual connection. The simple tents have basic facilities, which provide good comfort.   
The food available in most of Rishikesh is entirely organic and vegetarian. You can enjoy rafting, trekking, ayurvedic spas, meditation classes and the grand elephant rides. One can really experience the real peace of mind here. (No alcohol in Rishikesh)
Jaisalmer Desert, camping in India
Jaisalmer is one of the famous tourist destinations in India. During winter season from October till February, it is full of tourist and has very beautiful desert and Camping in Sam Sand Dunes of Jaisalmer is one of the most exciting experiences. It is situated in the Thar Desert, One can enjoy the beautiful view of golden sands and camping here combines comfort and facilities with traditional Indian culture and hospitality.
Enjoy camel safari, Bonfire, delicious Rajasthani cuisine and local folk dance and music. For those of you looking for a stay in the deserts of Rajasthan, It is the perfect place to plan your stay during winter. Some amazing camp lets you experience the arid deserts of Jaisalmer from up close. In addition, it has been defined by tourists as a place to eat, drink and be merry! The camps have all the facilities to make it a comfortable stay and have your day packed with fun-filled activities.
Note – Always carry a water bottle in Desert.
Sarchu is one of the best destinations in India, where one can enjoy camping. This camping site is around 220 km from Manali and is ideally located on the Manali-Leh highway. However, it makes for a perfect overnight stay en-route the road to Manali. Most of the travellers, who undertake the arduous trek in the nearby Zanskar region, often start their journey from this point. Moreover, camp available here is quite comfortable with a separate dining tent and a complete electricity facility.
Note – Always travel with a local Tourist Guide.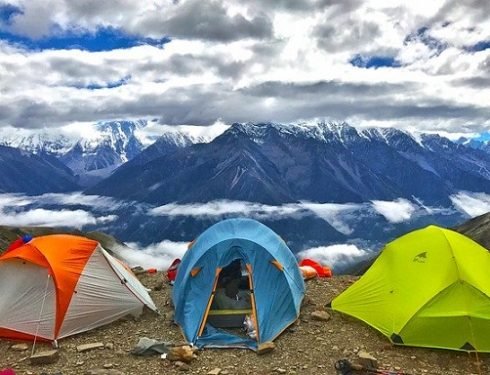 Spiti valley, Best place for camping in India
Beautiful Mountain of Spiti Valley nestled in the Keylong district of Himachal Pradesh. It is one of the best camping and trekking places in India. In addition, adventure enthusiasts and trekkers from all over the world come here to enjoy and explore this untouched beauty in the Himalayas. However, there are amazing hills, beautiful lakes, monasteries, lush valleys. In conclusion, April till August is the perfect time for this amazing adventure.
Book now camping in India