Bikaner is a desert city. It is not only famous for its Traditional Indian snack (Namkeen) But also popular for camel breeding and desert lifestyle. This city is located in the desert thar and it has gigantic and spectacular forts and palaces that invite thousands of tourists across the globe. In addition, Bikaneri shawls, blankets, carpets, and candies are famous along with handicrafts that make it a hotspot for shoppers. Many locals Businessman visit this city because it produces beautiful glass work (Bangles) and attractive Mojris (traditional shoes) and pottery.
Moreover, the old part of the city stands as a silent witness to the rich history of the region. Ruler of this city was Rao Bika and was the prince of the Rathore clan, in 1488. The old part has high stone walls which looks amazing. However, this city is full of culture and tradition because local people still follow ancient Indian tradition but at the same time, its will amaze you with its bustling bazaars, exquisite handicrafts and delicious cuisine. While in Bikaner, don't forget to buy bhujiya( Indian Snack).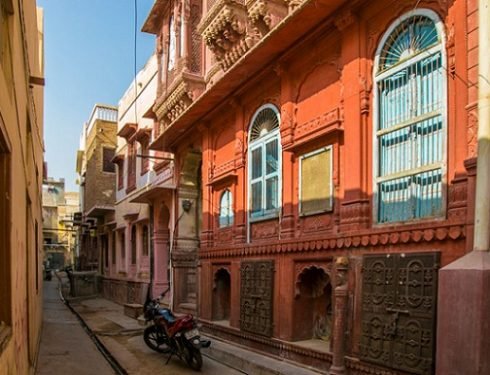 Places to visit in Bikaner
Bikaner is also famous for camel breeding. If you love camel and want to see it's breeding process than Bikaner is the best city to explore. There is Camel breeding farm which is close to Bikaner City. One can enjoy here camel rides and ice cream made of camel's milk. You can also check out an exclusive range of camel leather articles at the Camel Leather Shop. It is usually takes an hour or less to fully explore the intriguing farm.
Indian Council of Agricultural Research has founded it in 1984 to conduct exclusive research on camels. It is popular as Government Camel Breeding Farm and is one of the biggest camel reproduction farms in Asia. It is Spreads over an area of 2,000 acre and one can read the information panels to get an insight into the process of camel breeding and agriculture.
Deshnok Temple or (Famous as Rat Temple)
''Deshnok'' is a small town and it is close to Bikaner This town is famous for the temple of Karni Mata(Rat Temple), People believe to be an incarnation of Goddess Durga. It is one of the India's most fascinating temples which invite devotees from all over the world. The temple houses as many as 25,000 rats who are known as Kaabas. People believe that it is highly auspicious to see a white Kaaba run across your feet as they are believed to be the sons of Karni Mata. Around 600 families of the Charan clan claim to be the descendants of Karni Mata.
Things to explore in or around Bikaner
Bikaner Fort (must visit), Bikaner Bazar, Camel Breading Farm (Bit far from city), Deshnok Temple (Famous as Rat Temple), Camping in Desert
Bikaner weather is very nice from October to March because of winter season and From April to September summer season and because of hot weather number of tourist decreases.