Ranakpur Temple is one of the most beautiful spiritual sites in India for Jainism followers and extremely popular among tourists because it's one of the five most important pilgrimage places of Jainism. This village is on Aravalli Hills. If you are travelling from Jodhpur to Udaipur than you have opportunity to visit this place because it comes in the middle of these cities. The main temple of Ranakpur, Chaumukha Mandir, is dedicated to Adi-nath which is the first Jain (saint) and an important shrine for the Jain community in India.
This beautiful temple is entirely made out of white marble. In addition, it comprises 29 halls, 80 domes, 400 columns and 1,444 pillars and these pillars themselves are a thing of utmost beauty.They display intricate carvings of elephants, flowers, and people.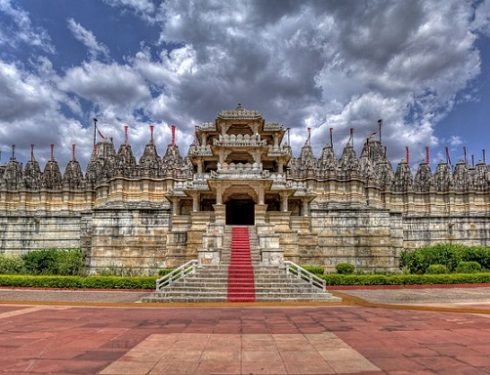 Ranakpur Temple features are high dome, ceilings, wide corridors and the ceilings are ornamented with an intricate carvings of nymphs. You me love the celestial maidens playing musical instruments. Moreover, there are five spires, and you can find a 6-ft-high statue of Adinath under the largest spire.
In addition, there are two more temple around Ranakpur Temple.  These belongs to Neminath (the 22nd tirthankar) and Parshvanath (the 23rd tirthankar), both are within the complex. In short, All three temples are amazing and provide a sense of tranquillity to the visitors. One should not fail to visit the nearby Sun Temple and Amba Mata Temple while in Ranakpur. They are just as lovely. In conclusion, once you are there you will have around an hour to visit. It is an awesome place for art lovers.
Usually it is an Hour visit, while travelling Jodhpur to Udaipur. Because this village comes in the middle of these two cities. One should not miss this beautiful temple.