Adventure trip in India, India is full of adventure, every year lot of tourists enjoy the beauty mother nature as going in the mountains, trekking, wildlife safari, river rafting etc. life itself is an adventure which gives us twists. But actually adventure trips gives us the real thrill and takes into a whole new world of excitement, and refresh our mind and soul. However, high peaks and mountains, challenging rivers, trekking and getting close to wild animals, India is full of some adventurous locations where anyone will feel amazed that are worth experiencing.  In addition, here are few adventure trip ideas which will amaze you to do these adventure trip at least once in a lifetime.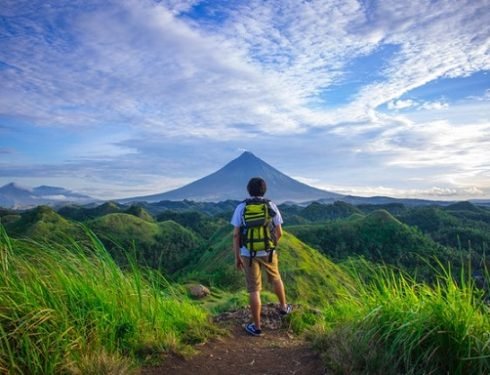 Goa is one of the famous tourist place in India, Usually tourist go there to enjoy their vacation of Christmas and New Year. There are many activities for tourist and one of them is Banana Surfing which is the most thrilling water adventure in Goa. Challenge yourself for surfing in the waves of Goa beaches by sitting on the Banana surfs is an awesome experience. However, if this is your first time then you will be easy-to-follow instructions for surf experts. Learn the skills and get on to the boards to fight against the lashing water of Goa beach. There are different place where you can find surfing services in Goa offering lessons with adequate equipment.
In addition, best Time for surfing – Except monsoon and high tide, surfing can be done anytime throughout the year. Price for one person is 30 to 40 euro for every 90 minute lesson.
Skydiving in Mysore (Super Adventure trip in India)
Skydiving in India is very rare, This kind of adventure trip is one of the most trilling sport which is people love to do but when it is come to do you may think whether to do it or not. Imagine yourself in the air without any movement and watching the view of the land. Skydiving is the most thrilling adventure you can ever experience. Fortunately we can enjoy it in India in Mysore, If you're in Mysore then don't miss the skydiving at the most the unadulterated height from the sky. 
However, before the act, you'll be trained by expert and provided with safety procedures. Tandem, Solo, and A License are three different type of jumps. Of all, Tandem jump is the most popular training for the first time skydivers. The height altitude is from 5,000 ft. to 9,000 ft. In conclusion, the price for the skydiving in Mysore starts from 500 euro to 5000 depending on the course and days.
Loin Safari in Gir Nationl Park
Gujarat is known as the home of Royal King, The national park covers 1412 sq. km, Gir National Park in Gujarat is the only place where one can see lions roaming freely and is the home of approx 520 lions. One can come see various birds, reptiles and other animals. Take a jeep safari in the park and get encountered with wild animals roaming freely. There are adventurous Gir holiday tour and jeep safari tour. 
The park is in Junagadh district of Gujarat and one can reach there from cities like Ahmedabad and Rajkot. Park remains open from September to May. For a Jeep safari, charges can be 80 euros for 6 people in one jeep (Indian) and Rs 160 euros for foreigners. This price includes jeep & Driver, Permit Charges, Guide, One Camera, Booking can be done with online Payment Gateway and Pickup & Drop facility are also available from resort.
DudhSagar Trekking in Goa
One of the amazing things about South India adventure trip is the waterfalls near Goa that truly takes your breath away. It is the Dudhsagar Waterfall which is an important landmark in Goa offering amazing view from long distance falling at the height of 1015 ft is Also known as the 'sea of milk', the waterfall are zenith during monsoon season. Imagine the experience of going under the waterfall as the train passes through it. You can even engage in the enthralling trek in the vicinity. Reaching to Dudhsagar Falls, Train is the best way to experience this gigantic fall. One can reach there at Collem and is 6 km away from the falls. It is in the Sanguem Taluka of Goa. One can also reach to the falls with a jeep. They may charge you 20 euro per person.
Himachal Pradesh is a paradise not only for tourist which goes every year for trekking but also for skiing as well and Kufri is an ultimate destination which is Situated at an elevation of 9000 ft above the sea level, Mahasu and Narkanda are two popular skiing destinations. There are two different tracks 400 m length for naive skiers and 800 m long for professional skiers. Best time to visit and experience the thrill of skiing from December till February. Kufri is the nearest station and is well-connects to other cities. The price for skiing is around 10 euros per person.
Munnar is blessed with enchanting beauty of nature with zigzag roads offering the best view of lush green hills. Roming around the Madupatty tea plantation and admire the beauty Kundala Dam and Anamudi Chola near Anamudi National Park. Cycling in this location is the best ever experience you can enjoy. There are different cycling tours which includes half day, full tours.
Trekking in Kasol ( Awesome adventure trip in India)
Kasol is one of the most lovable place for trekkers. It has some awesome trekking zones which will amaze you with the beauty of nature and there are many waterfalls as well. One can Reach to kasol just taking an overnight Bus from Delhi (Majnu ka Tila) which departs at 18:00 pm and arrives on next day morning at 8:00 am. Kasol is the centre of all trekking zone except Kheerganga for which you need to go to Brasaini .In every 30 minutes there is bus service is available from kasol bus stand to Brasaini which is the last stop of bus. Then one can start walking till kheer ganga track which takes aprox 6 hours walking. There are some other trekking zones available there like Grahan , challal, Tulga, Pulga.
River rafting in Rishikesh
When we talk about performing river adventure, Rishikesh is the only destination which comes in our mind. Rishikesh is the capital of river rafting in India and also a spiritual destination where the holy Ganga River flows, offering River rafting in Rishikesh is an amazing experience one can feel While rafting on this holy river, you can feel the scintillating view of majestic Himalayas covered with lush green view. There are different locations for river rafting in Rishikesh. Bungee Jumping Experience in Rishikesh is another sport. The price for per person could be around 10 to 50 euros per person depending on the km. Best Time to go for river rafting in months between February to October.
Bike Trip Manali to Leh adventure trip in India
Just imagine the riding your bike along the valleys and the path giving you the majestic view of snow packed mountain. Isn't a wonderful experience? A bike trip to Himalayan region offers high dose of experience. Manali to ­Leh bike trip is a chance to explore the journey of various hallucinating places. Stopover in sapphire lakes, canyon mountains, drink a hot tea at the tapri of this region. The delicate breeze of this route has something magical that makes bikers go beyond their capacity. 
The bike trek usually begins from Manali, a delightful town on the banks of Beas River and will continue to high-street routes including Khardungla pass, known as world's most difficult motorbike street. Routes: Manali- Jispa- Sarchu- Leh- Khardungla Pass , Best Time: June to September is consider as the ideal period for bike trip for Manali to Leh. For Manali to Leh Bike Trip there are various adventure groups and excursion. The ideal package starts from 300 euro per person including accommodation, meals. 
If you're an adventure lover and want some experience along with safety concern, then hot air balloon ride over the desert of Jaipur is adrenaline adventure you must go for. Once you get into the hot air balloon, you'll enjoy the adventure of floating along the winds. Admire the bird's eye view of the Pink City and get absorb into the colours of this city. The best time to experience this adventure is during November to June. The timing of the flight is done in the early morning and in the afternoon. The safari would last for 1 hour. Service: Sky Waltz Balloon Safari is the popular service in Jaipur Price: The standard flight ticket- 180 euros under Skyvisa Under SkySail: 120 euros (per adult) and 90 euros per child.
Dune Bashing in Jaisalmer an adventure in India)
In India Jaisalmer is the place where you can enjoy this adrenaline adventure like Dune Bashing. In the desert sitting inside a car which you'll experience the dashing of sand coming its way. Enjoying a spell of dune bashing, Dubai-style, on the Sam sand dunes, 44 km from Jaisalmer in the midst of the Thar desert. Keep the traditional camel ride aside and get into the dune bashing in lavish style. Price for dune bashing is between 60 to 120 euros per person. Best time is from December to March for dune bashing.