''Abhaneri'' or Chand Baori one of the most beautiful Baori (step well) in India ,it was built over a thousand years ago in the Abhaneri village of Rajasthan. It is the largest stepwells in the world and King Chanda built it in the 9th century. However, The Abhaneri step well  is not an easy landmark to find, thus it is one of the hidden secrets of India. Moreover, Chand Baori has approximately 3,500 narrow steps arranged, which descend 20m to the bottom of the well. Many Centuries ago, the step wells were built in the arid zones of Rajasthan. Because of less rain area, to provide water all year through. In short, it is about 65 feet deep and India's largest and deepest step wells with 13 floors.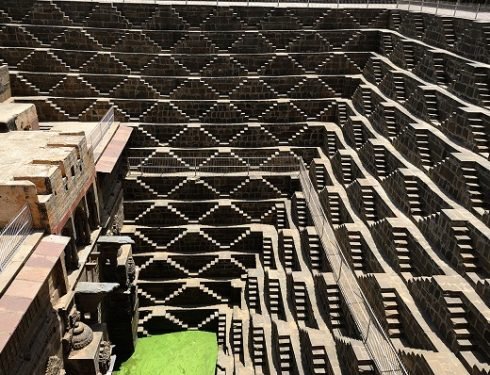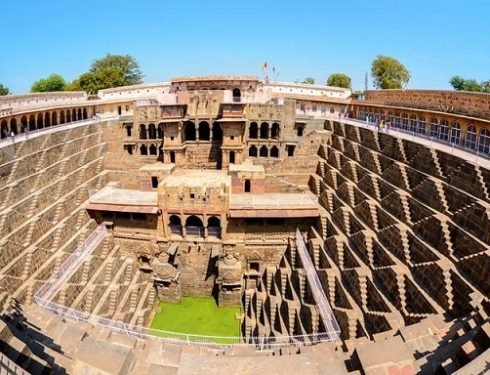 The baori has a precise pattern, which is hard to find in this age. The steps makes a magical maze and the consequent play of light. In addition, the shadow on the structure gives it an amazing look. It has an rectangular courtyard kind of structure. Just after entering you reach to windows. You can also see the cavernous baori narrowing towards the bottom with double flights of steps on three sides to reach the water surface down below. These stairs encircle the water on the three sides and the fourth side boasts of a pavillion with three storeys with beautiful galleries, jharokhas supported on pillars and two balconies enshrining beautiful sculptures. 
Note-  If you are not able to pass through stair-cases, then we recommend you to stay in car. Because there are many stairs and one need to walk a bit more to take amazing pictures. However, you can click pictures from far.